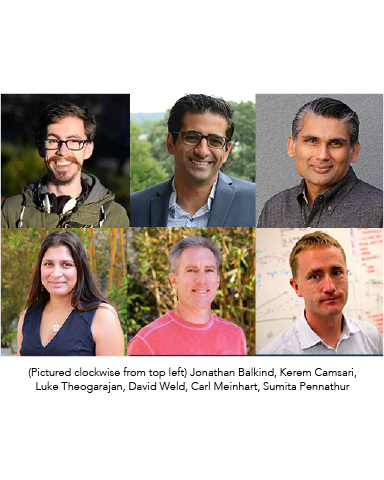 By the College of Engineering
Three projects that take innovative approaches to solving critical energy-efficiency challenges have been awarded seed funding from UC Santa Barbara's Institute for Energy Efficiency (IEE), an interdisciplinary research institute committed to improving energy efficiency. The selected projects align with at least one of the institute's three key interdisciplinary thrusts: smart societal infrastructure, computing and communications, and the food-energy-water nexus. Each proposal will receive up to $50,000 in critical seed funding, which is intended to produce preliminary results that the scientists can use to apply for major external funding to expand their research.
"Supporting projects in the early stages of development is an essential step to the creation and delivery of high-impact solutions to improve efficiency," said IEE director, John Bowers, a distinguished professor of electrical and computer engineering (ECE) and materials. "Each project attacks a grand challenge with a leading-edge approach that has tremendous potential. They also foster new research collaborations and leverage IEE's legacy of scientific discovery."
The awards bring six new faculty members from the departments of mechanical engineering, computer science, ECE, and physics to the IEE.
"The review committee was thrilled with these projects because they proposed innovative paths to discovery and enrolled new junior and senior faculty in the institute," said Mark Abel, associate director and executive advisor of IEE. "We also saw how seed funding could really help these faculty move their new efforts forward, and how the research, if successful, could lead to additional funding opportunities."
The selected projects are aimed at developing novel technologies, ranging from new computer hardware to a probabilistic computer, to an energy harvester that powers portable and remote smart devices.